Activité Lycéens

Le 2 février 2019, 33e jour julien soit 66 jours martiens après l'atterrissage (sol 66), le sismomètre déjà posé au sol reçoit son bouclier protecteur.
On veut détecter, à travers les données enregistrées durant cette période, si le bouclier a un effet, et si oui ... quel effet sur le bruit visible sur les enregistrements.
On cherche à récupérer le signal durant la période du 30 janvier 2019 au 4 février 2019 soit une période de 6 jours au milieu de laquelle le bouclier a été déployé avec succès. On s'intéresse au bruit enregistré par SEIS, mais aussi à l'évolution de la température externe, la température sous le bouclier enregistrés par des capteurs thermiques, On peut aussi s'intéresser à la vitesse du vent et à la pression enregistrées par des anémomètres et un baromètre situés sur le lander.

On February 2, 2019, the 33rd Julian day, 66 Martian days after landing (sol 66), the seismometer already on the ground receives its protective shield.
We want to detect, through the data recorded during this period, if the shield has an effect, and what effect on the noise visible on the recordings.
The aim is to recover the signal during the period from January 30, 2019 to February 4, 2019, a 4-day period in the middle of which the shield was successfully deployed. We are interested in the noise recorded by SEIS, but also in the evolution of the external temperature, the temperature under the shield recorded by thermometers, We can also be interested in the wind speed and pressure recorded by anemometers and a barometer located on the lander.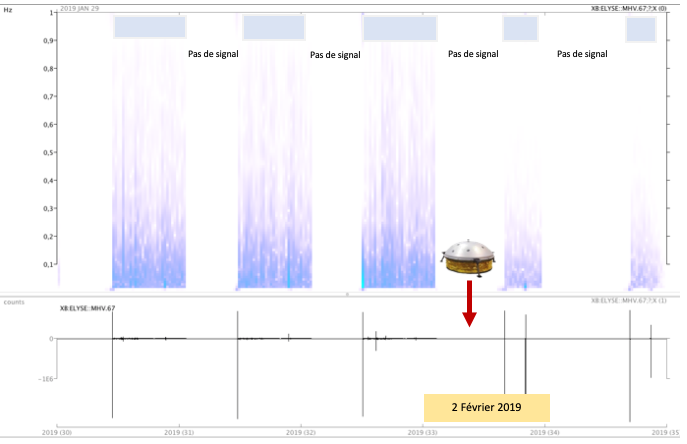 Télécharger l'activité (Français) /

Download hands-on (English)
Télécharger les données / Data available: DATA (mseed) / DATA (csv) soon
Petit clip vidéo réalisé par les élèves du lycée français de Shanghaï dans le cadre du défi Namazu (2020)